My home Skalica is by no means a large town.  Records suggest the local population to be around 15,000.  But be warned - big things come in small packages.  Ignore this town and surrounds and you do so at your peril!  For a town of its size, it certainly packs a punch and is punching above its weight in terms of history, community spirit, pride, culture and access to the beautiful, great outdoors.  And just to cap it off (and for what it's worth), it even plays host to a Slovak premier league football team. Surprised? Amazed?  You will be!

The weekend has come around once more and my wife and I have been invited to attend the annual wine tasting event of the Skalica Winemakers' Union. Last year's event was held in the town's Skalicky Kulturny Dom, in the historic centre of town.  A building dating back to 1905, and designed by Dušan Jurkovič, a well-known architect of the day with its visually stunning mosaic decorated façade.  It has a deep, folkloric influence, featuring club rooms, a library, a museum and a theatre.  The theatre walls and the stage curtain are adorned with paintings by Jozef Úprka and Antoš Frolka.  The building is now a National Cultural Monument.  And rightly so! 
This year's location, just across the road and within the remnants of the city's walls, is the equally elegant and restored former Franciscan Monastery, with its quaint courtyards.  The monastery had been fully functioning until 1950, when its' keepers were forcibly displaced by the communist regime.  Today the monastery complex includes a concert hall, wine-cellar and indoor and outdoor spaces for social and cultural events.
Inside, we are each given a wineglass incorporating the winegrowers' union emblem, a catalogue listing the numerous wines available and a wristband to prove that we have parted with the princely sum (!) of 12 euros for a married couple.
Skalica has a rich Viticultural history.  The vineyards developed from the mid-15th century after the rise in the town's status to free royal town, resulting in the town enjoying special privileges.  One such privilege was the towns own vineyard and later a tap room at the town hall, where the wine could be purchased.  
A quick survey of the catalogue today lists over 600 wines to sample, with 28 varieties of white and more than 20 red wine varieties.  Many of the well-known varieties are listed including Chardonay, Pinot Blanc and Pinot Noir (Rulandske biele/modra), Riesling (Rizling), Sauvingnon Blanc and Cabernet Sauvignon and Merlot.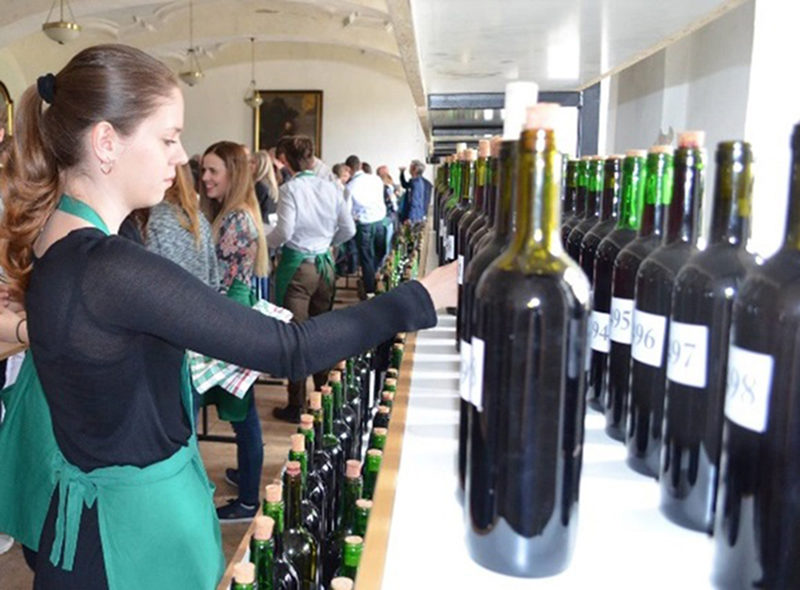 It would be amiss of me however not to mention fine local varieties.  Frankovka Modra (Blaufränkisch) is a wine of stories and legends.  During the afternoon I learn that the Habsburg empress Maria Theresa, who resided in a summer retreat some 10km away in a baroque chateau, showed undying love for the wine.  Perhaps it was intensive dark red colour and the subtle cinnamon taste with traces of blueberries, blackberries, and chocolate that captivated the senses of the emperess.  Or was it the timeless medicinal effects so the story goes, a natural anti-heartattack medicine of sorts.  It is unsurprising then to find over 130 samples of the wine on offer here today.  And in these parts, there is no better complement to this wine than the locally produced Skalicky Trelnik, a cake made from dough, sugar and almonds, wound round a wooden rolling pin 'trdlo' and baked over an open flame.  Its production can be viewed in the monastery itself, where it can be enjoyed with a glass of Skalicky Rubin.  Both products enjoy European protected origin and geographical designation.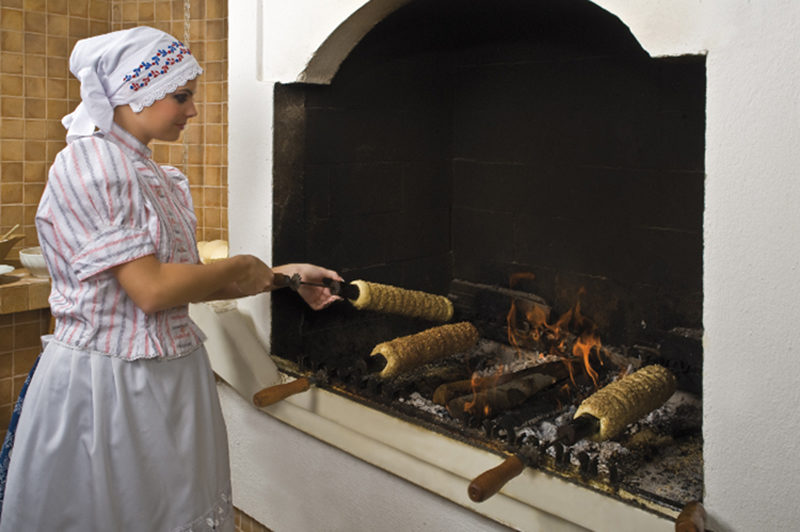 The charm of Skalica, I think, lays not only in its buildings, whose magnificent and masterful restoration has been undertaken with great care and attention.  Nor is it only the way in which it's possible to spend an immeasurable amount of time enjoying the great outdoors: cycling, walking, fishing, sightseeing, fruit-picking, mushrooming.  The list really does go on and on.  It is, though, a mixture of all these things, the way in which locals continue to embrace their traditions, their culture, and their history.
And so later in the evening our wine tasting experience concludes with the original sights and sounds of one of Skalica's many folklore groups, Planava, creating a kind of magical, atmosphere, within the confines of this historic monastery.  You, somehow, could almost taste the magic, with dance, happiness and laughter, filling the air.