The end of summer passed and my wife asked the usual question, about what we were going to do for the New Year?  As we are a young family with three kids – 6 year-old twins and the youngest only 6 months old at that time but fit enough to travel, we decided on an active New Year trip.  We had a few destinations on our list to choose from and decided to book a trip to the stunning Slovakian Tatra Mountains, which is well known as a great destination for family winter holidays. Although the cost of accommodation during the New Year doubles, it turned out to be a great decision, as we all had a fantastic time, with no regrets whatsoever!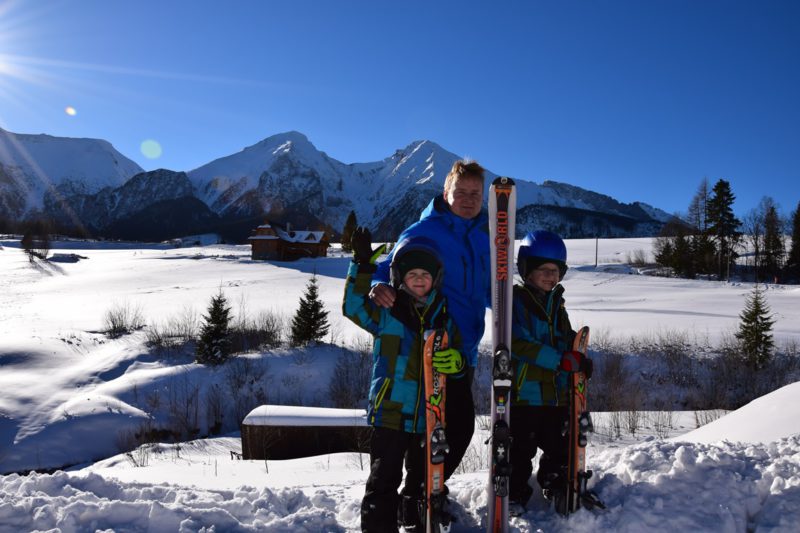 SKIING IN TATRA MOUNTAINS FOR THE FIRST TIME
When kids ski for the first time, it is always good to pick a slope that is easy enough to overcome the initial challenges.  I therefore picked a very good ski resort in the village of Zdiar, called Strednica, located in the Belianske Tatras, not far from the Polish border. There several slopes that are good for beginners and also very suitable for young children skiing for the first time.  Our boys loved it, and we all had a great time!  The ski pass cost us only 13 EUR per child, which I though was very reasonable.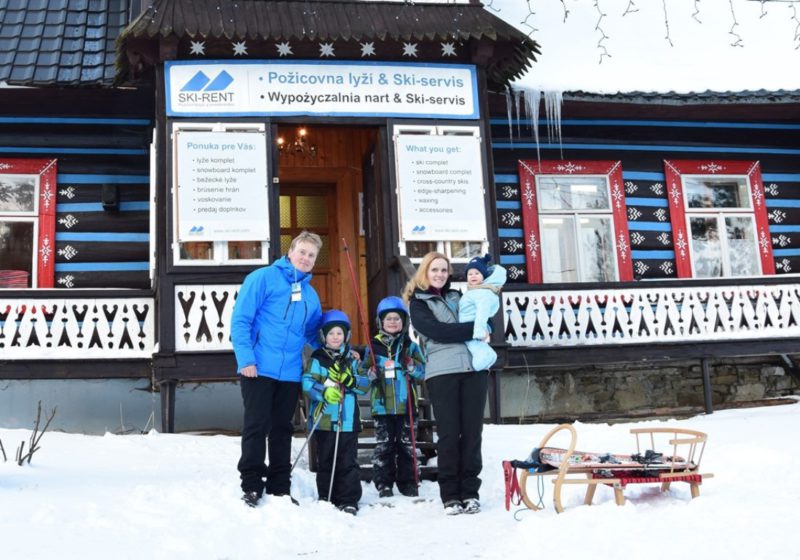 THE COST OF SKI HIRE
If you don't have your own skis, or you can't be bothered to bring them, you needn't worry.  In the Tatras you can choose from the numerous ski rental shops.  We picked a very authentic looking shop, located in the heart of the village.  A traditional log house, beautifully decorated with very helpful and pleasant staff, was a good choice.  The cost of ski rental was also very reasonable, 13 EUR and only 5 EUR for the sledge that we needed for our youngest. 
STUNNING SURROUNDINGS 
Managing three kids in the middle of mountains, with powdery snow up to your knees can be often a challenge, but the stunning views all around us was a lovely reward. 
WHERE TO EAT 
The Tatra Mountains are well known for the wide choice of traditional restaurants called KOLIBA. In such restaurants, you will always find traditional Slovak dishes, including HALUŠKI (potato dumplings with cottage cheese and bacon), which I would certainly recommend. One of our restaurants that we chose, was located in the middle of Zdiar, called Goralska Krcma. The service was fast and food delicious!
CHOICE OF ACCOMMODATION 
Slovakia Explorer normally use good 3 star hotels, but on this occasion we decided to book our own private chalet with fireplace, which was great and our kids loved it.
RELAXATION AFTER A DAY OF SKIING AND SLEDDING 
All our kids not only love snow, but also water.  In the Tatras, you will find a number of great water parks, with hot thermal pools and many hotels with their own pools.  We picked a wellness centre in Hotel Uran, located in Tatranska Lomnica.  Our kids enjoyed it, and it was just what we needed, and a nice change after few days in the snow.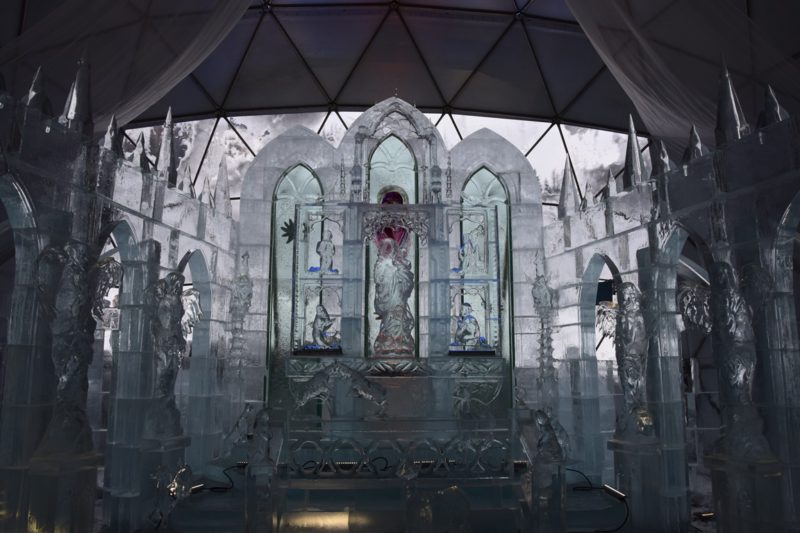 ATTRACTIONS 
Worth mentioning is the icy Kingdom of The Virgin Mary, which you will find in Hrebienok.  To get there, you can take a funicular cable car from Smokovec.  The return ticket costs 7 Euros.  If you want to do something more than just skiing, then this is a must when visiting the Tatras.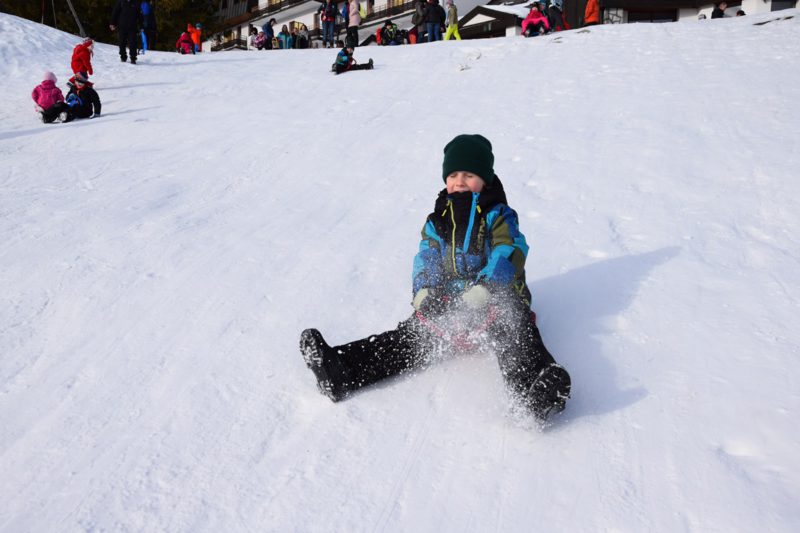 DOWNHILL SLEDDING
Once you are in Hrebienok, the surrounding slopes are just perfect for sledding, so don't forget to bring something to sled on! 
A DAY IN STRBSKE PLESO
Strbske Pleso is the highest village in Slovakia and certainly one of the most attractive destinations during the winter months.  The choice of activities is great and we enjoyed every minute.
HORSE AND SLEIGH RIDE
A nice way to get from A to B is to take a horse and sleigh ride.  Rates are reasonable and it is another authentic memory to take home with you.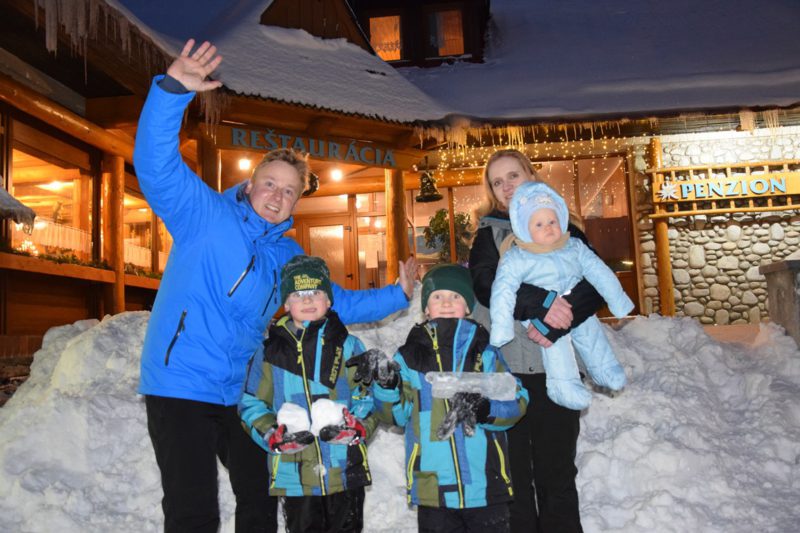 GOODBYE TATRAS
It is said that time flies when you're having fun.  And so, having enjoyed a superb week, we felt that staying a few more days would be fantastic.  Unfortunately, our jobs didn't allow us to do that on this occasion, but we are looking forward to our next winter break, probably in February or March, in the Tatra Mountains once more.
FEEL INSPIRED?
Slovakia is an amazing and affordable country for family holidays. Take a look at our most popular winter tours.  It will be our pleasure to organize your winter holiday in spectacular Slovakia. You have our warmest invitation.
Slovakia Explorer team.